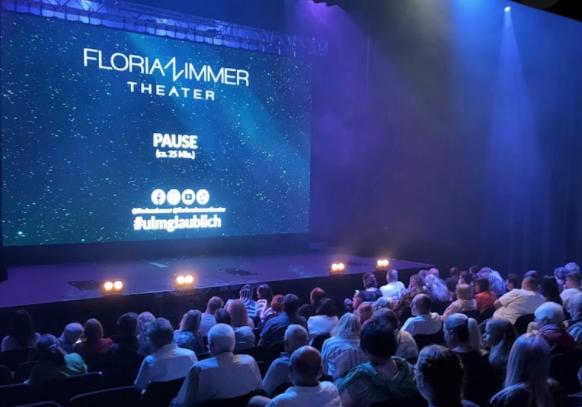 © Florian Zimmer Theater, Quelle: Florian Zimmer Theater
Friday 09.06.2023
08:30 PM - 09:45 PM
Florian Zimmer Theater
Grethe-Weiser-Straße 2/1
89231 Neu-Ulm
In the ULMLAUBLICH magic show, Florian Zimmer shows the full range of his magic. You experience the latest illusions from the most creative magician in the world - LIVE! Unleashing magic, the appearance of the fastest US police car and its legendary graffiti act are also part of the show, as are the small illusions with dexterity and audience participation. An afternoon full of magic awaits you. Age recommendation: from 7 years or school age.
Lass dich verzaubern!
Unfortunately this event doesn't have an English description.
In der abendfüllenden Zaubershow zeigt Florian Zimmer die gesamte Bandbreite seiner Magie. Du erlebst die neusten Illusionen vom kreativsten Magier der Welt - LIVE! Entfesselnde Magie, das Erscheinen des schnellsten US Police Cars und sein legendärer Graffiti-Act sind genauso Bestandteil der Show, wie die kleinen Illusionen mit Fingerfertigkeit und Zuschauerbeteiligung. Es erwartet dich ein Abend voller Magie. Altersempfehlung: ab 7 Jahre bzw. Schulalter.
Homepage
Recommend
Entry
Kategorien 1 bis 4: 69.00 - 99.00 EUR
Tickets
Venue
Organizer
Grethe-Weiser-Straße 2/1
89231 Neu-Ulm
Grethe-Weiser-Str
89231 Neu-Ulm
Florian Zimmer Theater