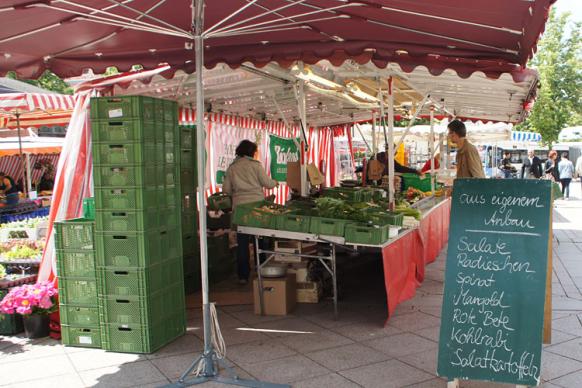 © Stadt Neu-Ulm, Quelle: Stadt Neu-Ulm
Wednesday 29.06.2022
07:00 AM - 01:00 PM
Petrusplatz
Petrusplatz
89231 Neu-Ulm
Neu-Ulmer Wochenmarkt
null
Unfortunately this event doesn't have an English description.
Mittwochs und samstags ist Markttag in Neu-Ulm.
Auf dem Neu-Ulm Wochenmarkt können Sie regionale, frische Produkte einkaufen. Das Angebot reicht von Brot- und Backwaren, Pflanzen, Obst, Gemüse und Kräuter über Fleisch- und Wurstwaren, Käse und andere Milchprodukte sowie Eier bis hin zu Kaffee und Tee, Feinkostwaren und vielem mehr.

Weitere Informationen zum Neu-Ulmer Wochenmarkt unter www.wochenmarkt.neu-ulm.de:
Homepage
Recommend
Venue
Organizer
Petrusplatz
89231 Neu-Ulm Stadtmitte
Note: wheelchair accessible
For more accessibility information, visit http://stadttipps-ulm.de or directly at the venue or the organizer. Please understand that construction works and moves often result in changes.
Augsburger Straße 15
89231 Neu-Ulm
Phone: (0731) 7050-0
Petrusplatz